We focus on only three service areas: Business Process, IT Strategy, and Implementation. Because we are independent and objective, you can count on us to consistently deliver in a way that is loyal and committed to your needs, In the methodology section you will see that our approach incorporates all three of our service areas in what we call the Info724 'prescription for success'. We have extended the industry standard Six Sigma approach of DMAIC with additional methods that support IT expertise, project management for system implementation, risk mitigation, change management, and skills transfer.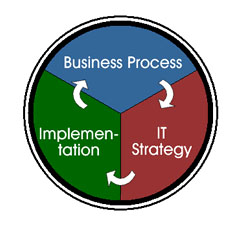 Business Process
We believe that all technology initiatives should start and end with business process. An organization's operations, along with clearly-defined personnel roles and responsibilities, should be simple and efficient both internally and externally in customer interactions. It is business process that determines how effectively your company performs-Since the daily and weekly operations of every function may include inefficient business processes, operations, or workflows, there is always room for improvement. Our service is based on Six Sigma, the industry proven methodology for achieving process excellence, and includes expert facilitation. Our business process service is a fast and effective way to get your team members on the same page about how things are currently being done and more importantly how the picture could be improved. Among the specific services available in the Business Process area are IT Staff Augmentation and Operations and IT Strategy.
IT Strategy
So many companies spend money on IT without having a solid and clearly articulated business case. Our competence includes the analysis and development of a proper business case that your executives and board can support. Companies are faced with so many opportunities and ideas for automation - that it is critical to have a systematic method of comparing and evaluating them to ensure the best return on investment. We provide you with the parameters and options you face, so you can make informed decisions about what projects to pursue and how to pursue them prior to spending money on implementation activities. Info724™ develops RFP's and coordinates all aspects of the package evaluation and selection process, laying the proper groundwork for contract negotiations. This service significantly reduces your risk, effectively controls run-away costs, and prevents wasted payments to IT vendors. We will serve as your representative, champion, and confidential advisor to ensure that you are getting the value you deserve for your investment in an IT vendor. We will facilitate the development of a comprehensive automation initiative for your company, which will provide you with the leverage you deserve in managing your IT vendors. Our Cost Benefit Analysis and Operations and IT Strategy are examples of services in this area.
Implementation
Since the whole purpose of information technology is to improve business processes, the proper context for the IT lifecycle is in a business performance framework that is measurable – specifically the "improve" stage of the Six Sigma DMAIC framework. In addition to business expertise, Info724™ project teams also include information technology professionals with diverse skills to complete information technology projects on-time and on-budget. Our resources include qualified IT project managers, software developers, database specialists, integration experts, and system testers who are available for short-term or long-term assignments to implement the right technology platforms such as industry software packages, .NET, and XML. Among the specific services available within the Implementation area are IT Staff Augmentation and Project Assurance.